Palletizing involves work throughout the entire pallet area and production line, often with significant loads. Many hours of work related to stacking packaging on a pallet is associated with a significant burden on the employee and fatigue. This nature of the work adversely affects the smoothness of the process. Robot palletization ensures efficient and precise work. The palletizing robot picks packages from a specific place, e.g. lines, and arranges them on a pallet according to a pattern and a certain number of layers, remembering to use interlayer layers. Learning to palletize is easy and quick to show where to pick a box, specify four pallet corners and enter the number of boxes for each of the two sides of the pallet. In addition, you can enter the collection of spacers and specify how many layers are to be laid, next everything is done by palletizing robots, precisely quickly and without fatigue.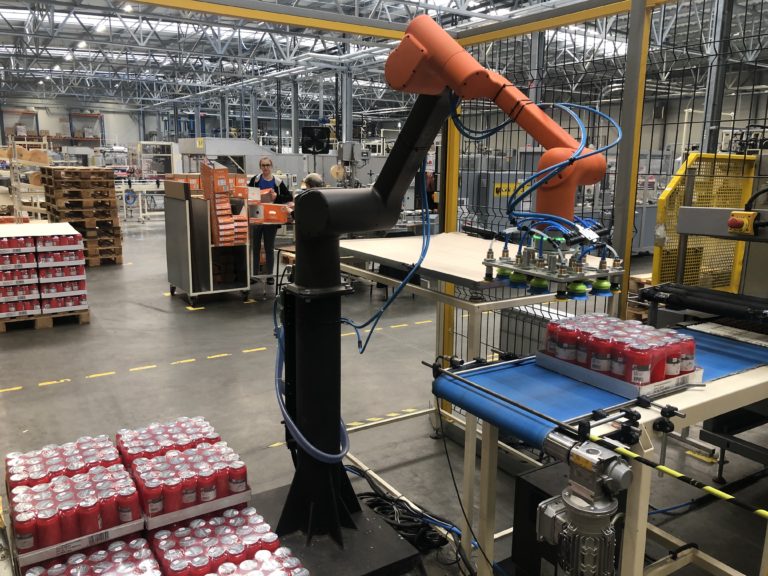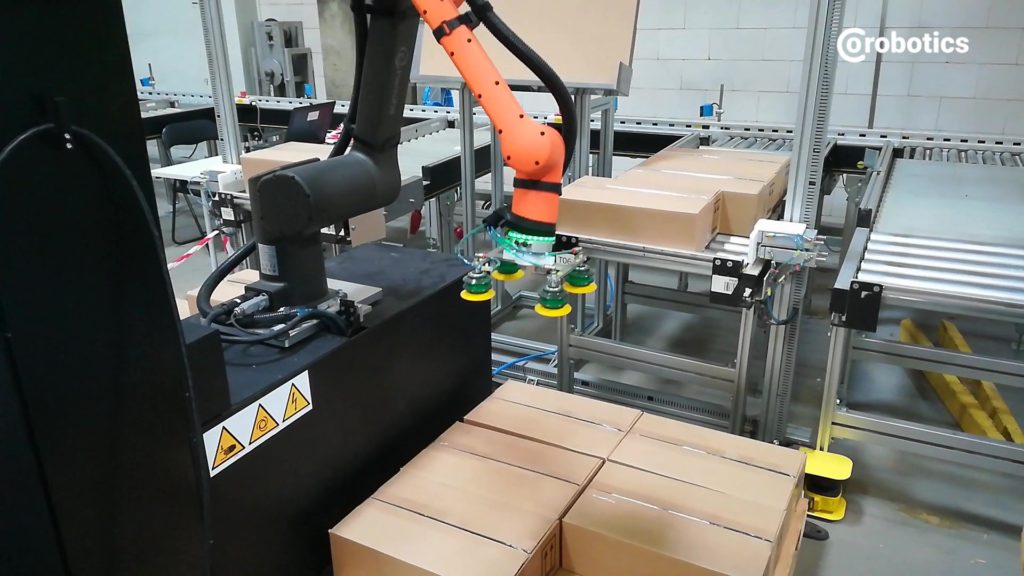 Cobot palletizing - you don't need much space
You don't need a lot of space thanks to the HCR industrial robot. Our Cobot takes up little space and can be easily installed in current production rooms. Because Cobots are compact, they do not require the construction of specialized foundations and fences – this saves space and costs.
Palletizing robots and safety
The palletizing robot ensures safe work next to Human. If it detects a collision, it will stop immediately and become vulnerable so as not to cause a jam. In addition, you can use a security scanner that slows down Cobot's work when it is detected near Man, and if the person is even closer, we can completely stop the robot. Thanks to these functions, we don't have to use safety cages.
Flexible production and quick changes
The HCR industrial collaborative robot is easily programmable. Thanks to the intuitive graphical user interface, based on graphical icons just like in a smartphone, we program everything easily and quickly. Thanks to this, you can often change palletizing patterns and even move the palletizer between different line ends to respond smoothly to production needs.
Using the robotization of the palletizing process, we achieve 100% efficiency in 24 hours. Robot precision and performance is available every minute. It is worth mentioning that the robot relieves employees of monotonous and hard work. In many factories around 80 tons of products are palletized during the day.
Robot palletization - basic functions
service of typical industrial pallets, europallets up to 1.65 m and 2.75 m with 7 axis
ready palletizing schemes – multilayer with variable palletizing schemes on individual layers
locating, downloading, arranging according to a specific pattern
programming of different palletization schemes for individual layers
integration with lines, conveyors – control of conveyor movement, presence of packaging for palletization laying and picking according to given patterns with layer and separator control
precise placement on pallets using a detecting force sensor adjacent packaging
control, reading codes and text
any packing operation at the stand based on the tools installed at the end of the robot arm
optional safety scanners slowing down or stopping the palletiser's operation when Human is detected