How to automate CNC machining?
The fact is that CNC machines and machining centers need a fast, efficient and strictly defined layout of the production hall. At the same time, they require the Workers to load, unload and handle finishing operations.
Operators can operate many machines. However, for many highly qualified employees, routine service can become boring. As a result, this leads to errors, downtime, loss of performance and even accidents.
Robots for operating CNC machines allow to automate repetitive tasks makes sense. Skilled people are still needed to supervise the work of robots and respond to planned changes. Robotization allows you to work 24 hours on the same production surface, increasing plant productivity and use of space. Robots for CNC machines are a great way to increase production efficiency.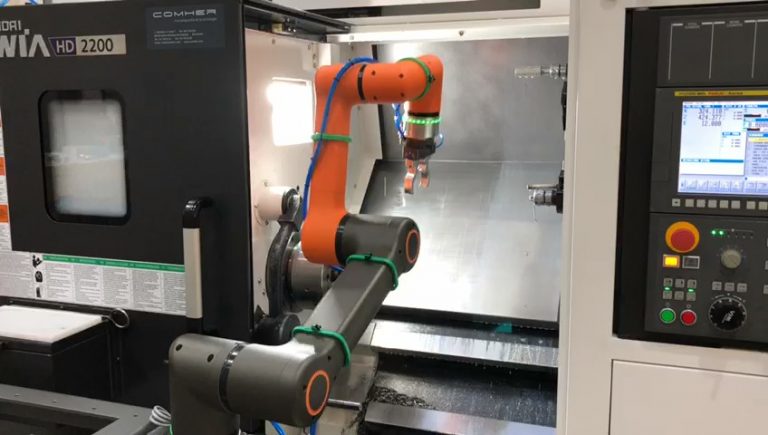 CNC Robot - Functionality
control of CNC and traditional machines through analog or diggital signals [FANUC/SIEMENS control]
integration with external security systems
service of stop gates, readers
controlling the placement of an element in the socket using a force sensor
visual inspection of the quality of details after processing
any action at the machine based on the installed tools at the end of the robot arm
Cobot for loading and unloading the machine
The use of Cobot allows for quick and easy robotization of the CNC machine. For this purpose, we can choose a ready set consisting of:
HCR robot
HCT-1200 table and software
Single or double gripper
Optional safety scanner [for sharp and dangerous parts to be processed]
Such a set allows for quick positioning next to the machine and connecting signals from the machine to the robot controller. We typically connect start, stop and emergency shutdown signals. In addition, we can enter signals informing about the wear of tools in the machine. Connection is relatively simple based on dedicated and labeled digital inputs and outputs. Then set the parameters of the part and the form on which the parts will be prepared for processing. Programming is only a few minutes and is extremely simple and intuitive thanks to the dedicated software.