CNC machine automation - EasyCNC
Easy programming and quick connection to a CNC machine allows you to quickly and efficiently robotize the operation of any machine.
Using traditional industrial robots to operate CNC machines requires specialized programming knowledge and time-consuming programming, as well as fenced work space and often dedicated foundations.
HCR collaborative robots are easily programmable and can work safely next to people. Equipping them with a specialized EasyCNC HCT-1200 table and dedicated software allows it to be quickly implemented to support any CNC machine.
Integration with the machine can be done via the traditional analog signal path or via the digital path with SIEMENS or FANUC control.
The HCT-1200 has a dedicated space for mounting the robot arm, controller and learning remote. In addition, it has a tray for workpieces that can be easily replaced according to changes in production. Thanks to the quick changeover of the pieces, the HCT-1200 is perfect even for short and medium production series.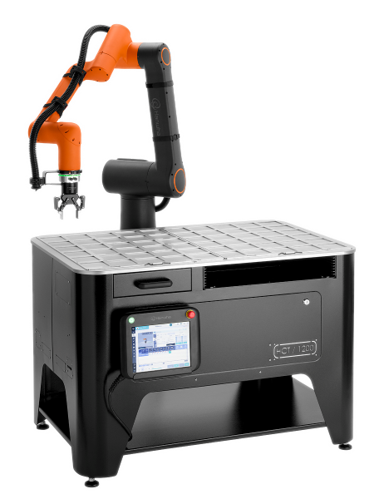 Simple and quick integration with CNC machine control
When robotizing machine operation, the key issue is the quick connection of the robot to the machine. Hanwha Robotics has designed PlugIn for RODI software – "HCR FOCAS" to maximally simplify the automation of machine tools of any brand equipped with FANUC control "i" series. FOCAS is a program with a Fanuc control software library that can be embedded in applications and allows applications to communicate with CNC machines using Ethernet or High Speed Serial Bus (HSSB).
FOCAS ADVANTAGES
Quick and easy integration with CNC machine control
Connection with the only cable between the HCR robot and Fanuc controller
Minimizing the installation time of the interfaces between the robot and the machine tool.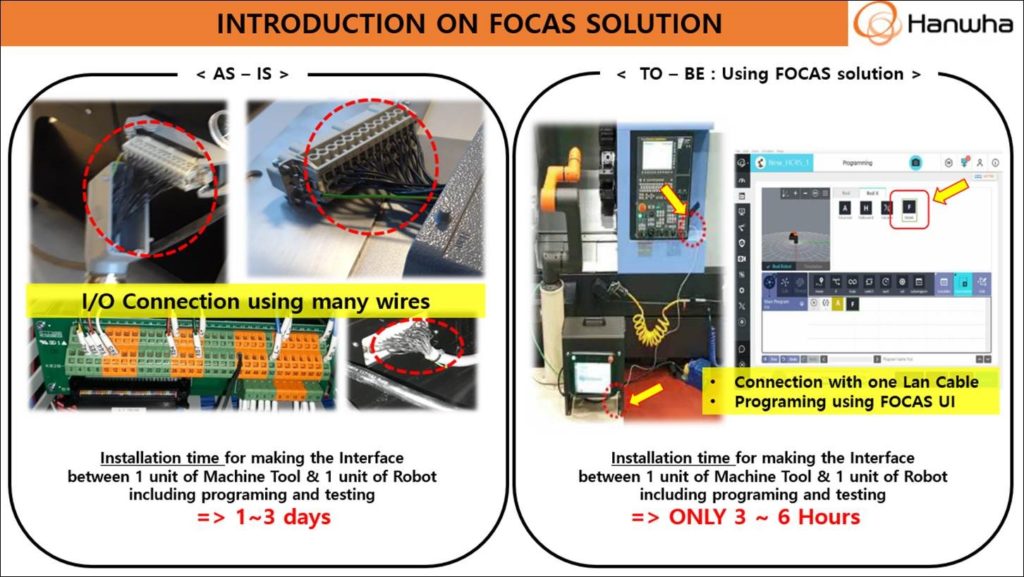 Easy programming of any elements
DYMATO software is supplied with the table, which allows you to easily program the elements that you plan to load and unload from a CNC machine. To this end, we choose [1] the type of quadrilateral or cylindrical element. Then we decide whether we want to add a new product [2] or edit an existing product [3] in the library. In the next step [4], enter the weight of the element and its dimensions, then save.
The next step is to program the form for the elements. For this purpose, we can choose the format saved in the library to edit or create a new one giving 6 dimensions shown graphically in the drawing. Then save the entered parameters and we can start working by running the program in the HCR robot program window.
Dedicated software allows you to program any elements in a few minutes for people with basic computer skills.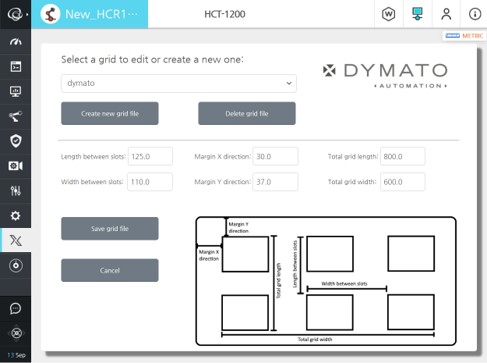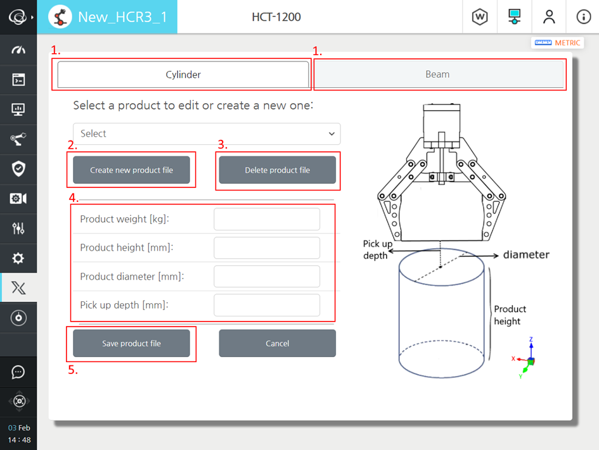 Designed for easy loading / unloading of CNC machines
Mounting bracket for HCR-12
Place for Hanwha HCR controller box
Tool and instruction drawer
Storage for 8 pieces
Hanwha pendant bracket
Connection plugs
Control panel and cable management
Security scanner as an option
1.260 x 860 x 900 (LxWxH) mm

powder painted steel
RAL 9005 Jet Black
tool drawer, drawer for pieces, panel for buttons
T/P remote control holder, key, software, 2 grids
Security scanner, buttons, connectors