3D vibrating feeding systems with vision - AsyCube
Asyril develops, manufactures and sales high-performance flexible feeding systems for parts and components from <0.1 to 150 mm. The combination of vision technology, plate backlight, specially prepared plate surface shape and 3D vibration allows one feeding system to handle various elements, including the orientation of even two types simultaneously on one feeder. Our innovative 3-axis 3D vibration technology can handle large parts of any geometry and enables extremely gentle part feeding.
Asyril's special skills and specialization demonstrate its ability to combine vast knowledge and expertise in the field of vibration technology, industrial vision and precision robotics. This unique combination of capabilities enables you to deliver superior, innovative, flexible component feeding systems for current and future automation challenges.
All ASYRIL systems are manufactured in Switzerland, which ensures the highest quality products and customer service. Many of their renowned customers around the world have gained a lasting, future-proof competitive advantage and a quick return on investment in ASYRIL systems.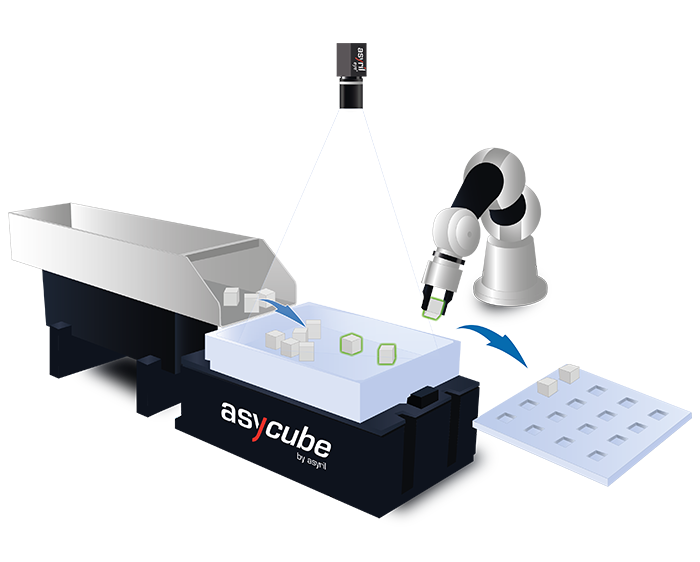 Compatible with all part geometries: 99% of all parts of the correct size are separable – including complex geometries and delicate materials
The shortest configuration and product change times for new elements,
Extremely gentle separation: 3-axis vibration technology allows parts to move freely in all directions on the illuminated table. Minimal wear as parts are not recirculated like in a spiral conveyor. The platform can be emptied.
Long life-time due to advanced electromagnetic actuators;
No compressed air required
No transmission of vibrations to the surrounding machines due to the separation of the vibration platform from the base of the device
Accurate part recognition: integrated backlight / optional SmartSight or EYE+ part recognition and image processing
Systematic orientation and alignment of parts possible thanks to structured platforms (grooves, holes, recesses / slots)
Easy installation and configuration with Feeder Control Center software
Simple system integration thanks to numerous software PlugIn's with the most popular robot brands.
Simple Communication with all types of automation systems based on standard communication protocols TCP-IP, ModBUS
Preconfigured fieldbus gateway/hardware adapter available for EtherCAT, EtherNET/IP, ProfiNET, CC-Link,
AsyCube - plate backlight
Integrated backlights for precise location of elements
Color: red, green, white, blue, infrared, depending on what type of elements are operated with AsyCube
Dedicated plates for precise part orientation

EYE+ & SmartSight user interface
Asyril solutions ensure easy and quick configuration of AsyCube feeding systems. We distinguish between two basic solutions. The first is EYE +, which in three steps allows you to easily configure the vibratory feeder, hopper, vision system and coordinates for the robot. The second system is SmartSight, requiring more advanced knowledge, which allows you to handle several different elements on one AsyCube feeder.
Differences between SmartSight i EYE+
Pick point and rotation angle teaching
AI based vision algorithms
Additional control camera
Multifeeding [multiple different part on the same feeder]
with calibration plate and tool
Level of expertise required
TCP/IP [PLC & robot PlugIn]