In general, welding is a difficult task requiring experience. It is unquestionably work in difficult conditions due to the gases generated during the process. Now you can reduce them to a minimum. From now on, the welding collaborative robot precisely will follow a precisely determined path with the adapted speed, while simultaneously controlling the welding parameters. As a result, dynamically adjusted process parameters will be ensured, depending on the object being welded. Welding can take place in many techniques, including TIG, MIG, point, arc, ultrasonic and plasma. Thanks to this solution, we achieve 100% repeatable high quality while maintaining constant speed. From now on you can achieve 100% repeatability and high quality. Additionally, you do not have to expose employees to work in difficult conditions. Welding robots are the perfect solution for your company.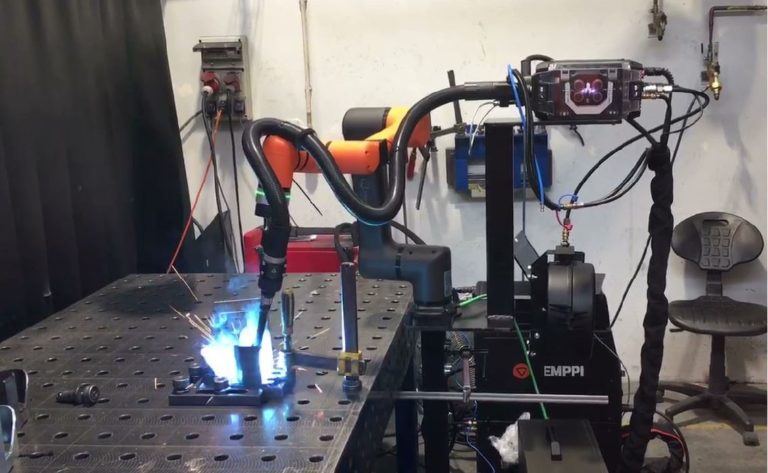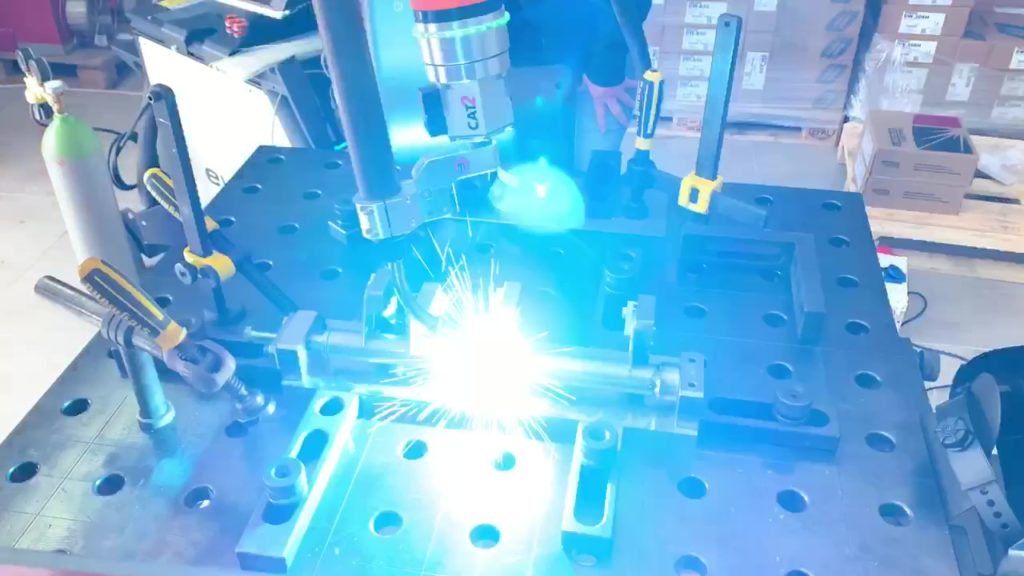 Advantages of robotic welding
The HCR collabortive industrial robot and the EasyWelder welding source kit allow you to work efficiently for 24 hours. The robot will work with the same precision and accuracy every minute. This significantly strengthens the efficiency of each company and allows it to be successful on the market.
HCR cobots are easily programmable. This is an intuitive software that allows you to teach the robot points by moving his arm in inertia mode. in addition, you can move the sliders on each of the three axes X, Y, Z. You can record complex paths. But to realize the most demanding welding paths, you can also import data from CAD / CAM programs. Thanks to the ease of programming, HCR is a solution for any type of production. Even the low and medium series.
High quality welding waves
The robot's precision of 0.1 mm allows for very accurate welds. This is important in the era of high quality requirements and due to the costs of quality loss that no company can afford. Robots welding persistently, precisely and repeatedly work for 24 hours – every minute of work looks exactly as you expect.
The HCR robot has been designed for 35,000 operating hours. Considering its maintenance-free operation, which mainly boils down to visual inspection and filter cleaning in the controller, it turns out that today it is a very cost-optimal solution for welding automation. Robotic welding has never been so effective.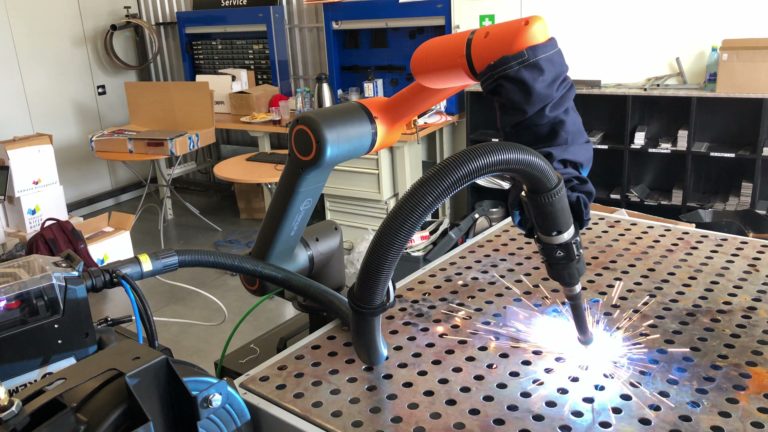 precise guidance of the welding tool at a specific speed
control of the welding tool and dosing of welding agents
welding with techniques: TIG, MIG, point, arc, ultrasonic and plasma
special protective cover on the robot's arm
welding any shape: straight lines, corners, circle with dynamic speed control adapted to the welded element
ready EasyWelder welding set – within a few minutes after switching on, the robot is ready for welding and the learning of paths takes a few more minutes. It's an easy and flexible tool for welding robotics.
Welding robot programming
EasyWelder programming can be done based on the RODI interface or based on dedicated HanwhaWeld simple software in which we select start and stop points for a line, we can specify the radius when one line goes into the other in a different direction, or set 3 points for an arc or circle. For this we set the welding start delay and technology number from the welding source. Teaching points is done using the robot arm – you can use the optional button on the wrist that puts the robot into the "DIRECT TEACHING" learning mode. See the video for yourself, where the ease of the EasyWelder programming process is shown.