AUTOMATION & ROBOTICS
HCR COBOT – INDUSTRIAL ROBOT
ASYCUBE FLEXIBLE FEEDING SYSTEMS
Flexible| Safe | Efficient 24/7/365
Easy & Simple in any application
Automation is no longer difficult.
HCR is easy to program and flexible in a variable production systems, effectively reducing investment and operating costs. As a result, it not only automates manual work, but also provides employees with a safe and comfortable working environment
Industrial Collaborative Robot - Cobot HCR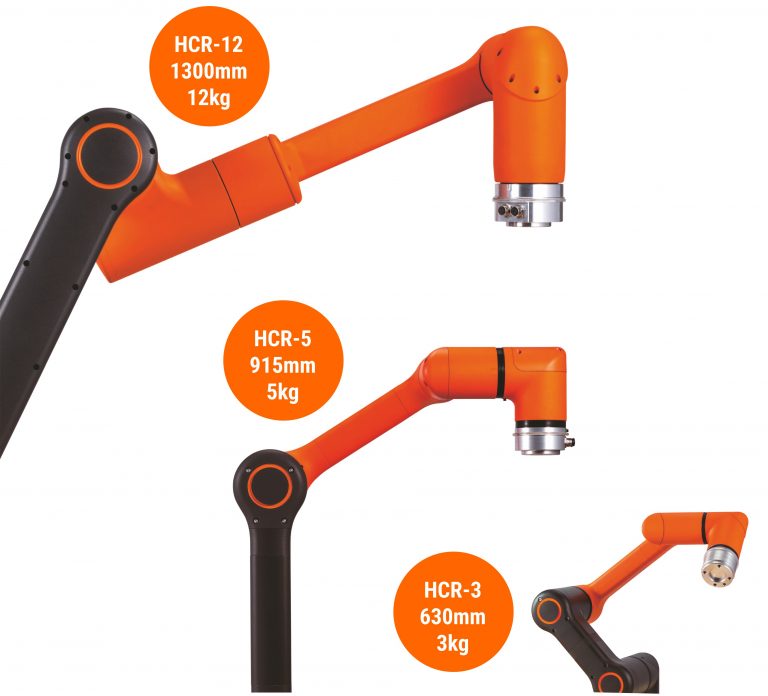 The HCR collaborative robots, in contrast to industrial robots, is characterized by ease of programming and excellent flexibility of adaptation, necessary to perform various tasks related to short, medium and high volume production. The ease of programming is comparable to the simplicity of the smartphone – after just a few dozen minutes of training, you can easily program them based on the principle of "teaching by showing" and an intuitive graphical interface. They are able to work safely with a human being without the need to use specialized barriers or safety cages. Collaborative robot so-called Cobot, allows high precision to work 24 hours, 7 days a week in monotonous, dangerous activities, ensuring 100% repeatability and high quality of work. Thanks to the ease of programming and the speed of implementation, the collaborating HCR robots become useful in the implementation of tasks not yet available for robots in low and medium serial production. HCR is a robot cooperating for hard work in industrial conditions, where proven solutions are of key importance.
Flxible feeding systems
Feeders - vibrating tables AsyCube
Innovative part feeding system for the robot
AsyCube are innovative systems of positioning and sorting elements of the Swiss company ASYRIL, using the patented 3D vibration technology additionally equipped with the SmartSight or EYE + intelligent vision system and backlight, which, together with specially profiled plates, are able to precisely, quickly and delicately separate, sort and position almost 99 % of free-form and geometry elements. AsyCube works with most of the robots and cobots available on the market.
Compatible with all part geometries: 99% of all parts of the correct size are separable – including complex geometries and delicate materials
The shortest configuration and product change times for new elements,
Extremely gentle separation: 3-axis vibration technology allows parts to move freely in all directions on the illuminated table. Minimal wear as parts are not recirculated like in a spiral conveyor. The platform can be emptied.
Long life-time due to advanced electromagnetic actuators;
No compressed air required
No transmission of vibrations to the surrounding machines due to the separation of the vibration platform from the base of the device
Accurate part recognition: integrated backlight / optional SmartSight or EYE+ part recognition and image processing
Systematic orientation and alignment of parts possible to structured platforms (grooves, holes, recesses / slots)
Easy installation and configuration with Feeder Control Center software
Compatible with all major robot, cobot and PLC brands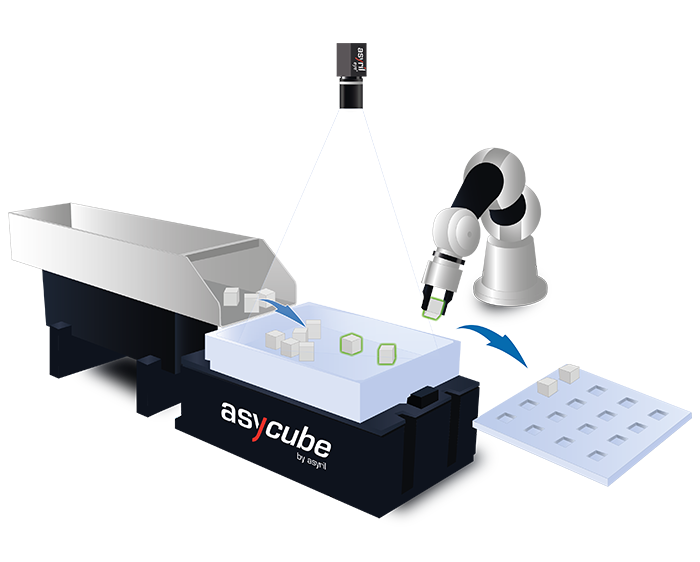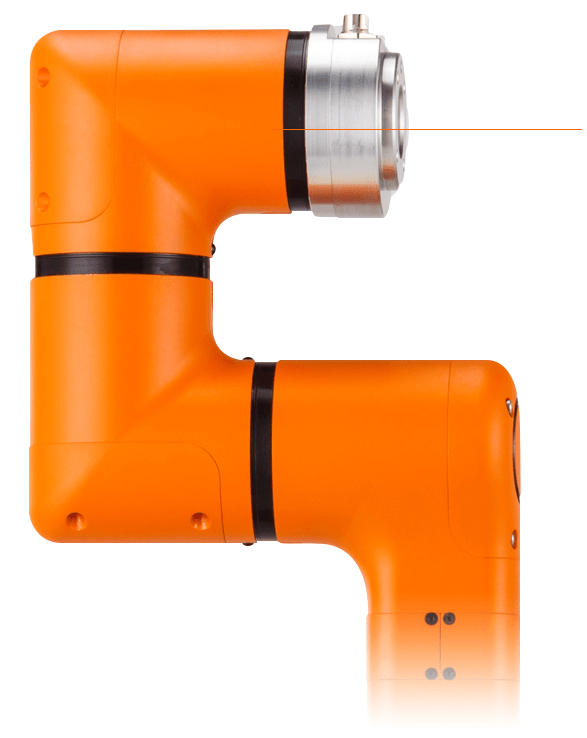 Compact size and fast set-up enables flexible change of manufacturing
After a 100 years of Mass Production – where one size fits all – customers' needs are diversifying and product lifecycle is getting shorter. Manufacturing line changes its production more frequently due to higher mix, smaller batch production. But no need to call an external expert nor change entire production line.
With its compact body and flexible mounting option, HCR and AsyCube offers the fast set-up, and thanks to its easy programming solution, there is no need of hiring expert to re-programming the robot or feeding system.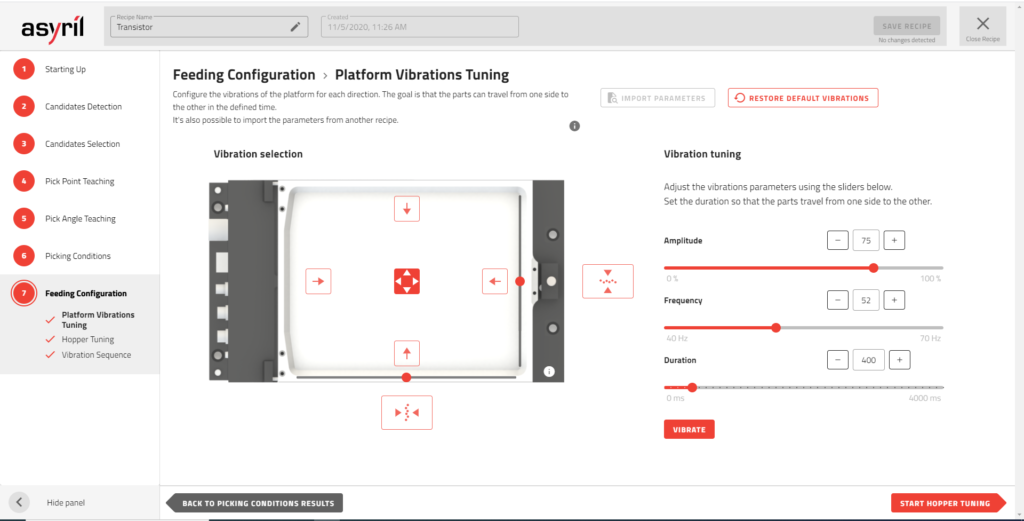 HCR is Easily connected with automation peripherals.
As collaborative robots gain widespread adoption across various industries, the demand for peripheral robotics' accessories will grow in tandem. Hanwha recognizes this, and the vital importance towards fast and easy deployment of robotics solutions. We look forward to working with Industrial partners for grippers, vision systems, torque sensors and other applications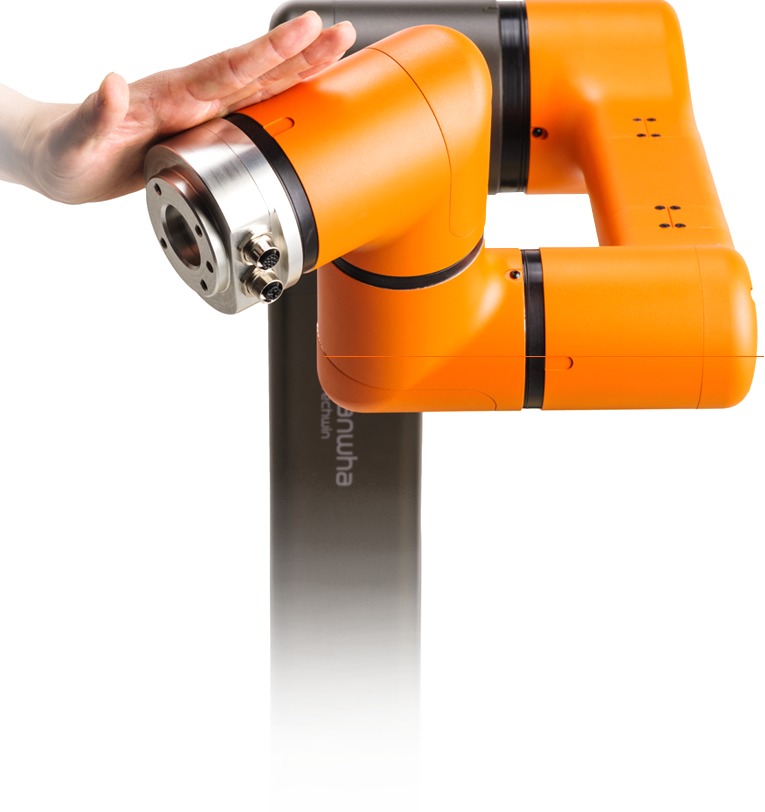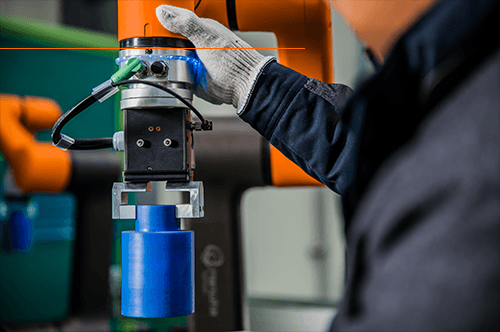 HCR provides stable use and is capable to collaborate with employees.
It is safe to install the robot right next to the operator as robot stops when it detects an external collision, also the virtual safety fence can be set in advance to prevent collision. Human can concentrate on high-value added work which requiring judgment ability while robot does repetitive and dangerous work. It allows to prevent the accident and optimize the production line through process automation. Also, since there is no need to separate the space for robot application, it allows optimal use of space
※ ISO-13849 Cat3 PLd achieved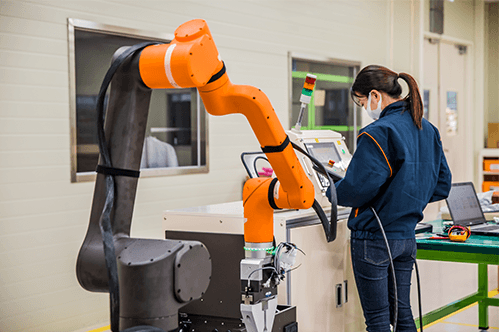 HCR is designed for user's convenience
The LED light on wrist lets you see at a glance the status of the robot, including normal operation, collision detection, or direct teaching mode. Tool I / O and EtherCAT port at the end of the robot eliminates the need for complicated cabling by allowing external tools to be attached directly. HCR's robot software, Rodi, has pre-compatibility with major vision vendors, allowing users to easily integrate robot and vision systems. (Supports major vision products such as Omron, Cognex, Keyence, Baumer and etc.) In particular, Rodi has additional commands to make it easier to set up for tasks such as loading, palletizing, and conveyor trekking, which are frequently used in robotic applications and are cumbersome to program.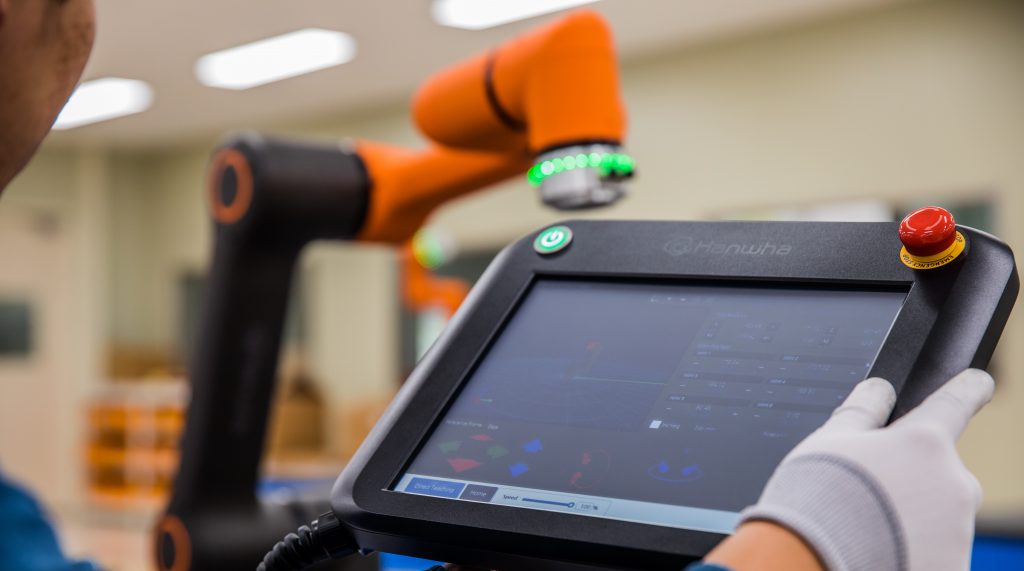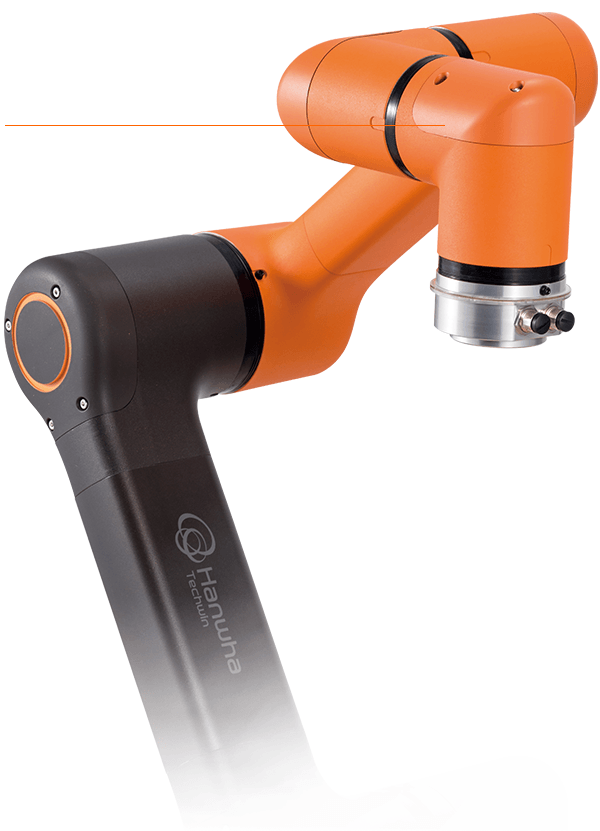 One-day training is enough to be a robot operator.
HCR's & AsyCube intuitive graphical user interface allows you to program the robot after several dozen minutes of learning
HCR is easy to programming, thanks to its icon based GUI and the timeline basis programming allows users to intuitively monitor the workflow. AsyCube EYE+ provides easy to use 3 step programming graphical software. Furthermore, for your convenience, HCR offers script basis robot programming also. In more simple way, user grasps the robot and directly teaches the waypoint or the motion path to the robot. It is especially useful in applications requiring complex movements.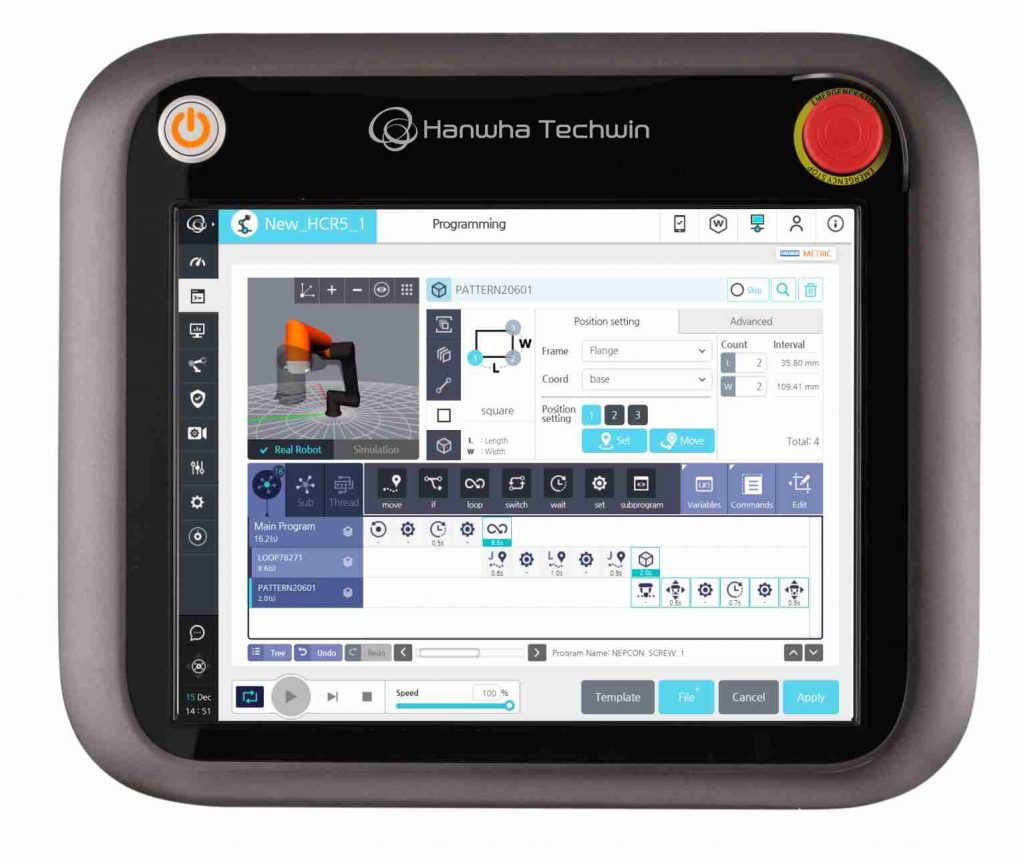 HCR collaborative robot in 2017 was awarded with a prestigious award from a 63-member team of international experts for innovation, design, ease of use and security. This is confirmation of high-class robot construction, advanced technological solutions focusing on continuous 24/7/365 work in heavy duty industrial environments. The design of the robot's arm, apart from its attractive appearance, ensures a high degree of protection as well as being adapted to work in the environment of heavy machinery or environments characterized by the presence of contaminants from production processes.
HCR collaborative robot in 2019 during the International Automation and Measurement Fair AUTOMATICON was awarded with a gold medal for innovative solutions for industrial applications and continuous 24/7/365 work. This is a prestigious distinction awarded at the oldest and largest Polish fairs related to automation and robotics. The expert committee highly praised the solutions that were used to provide HCR robots with high precision, durability and performance.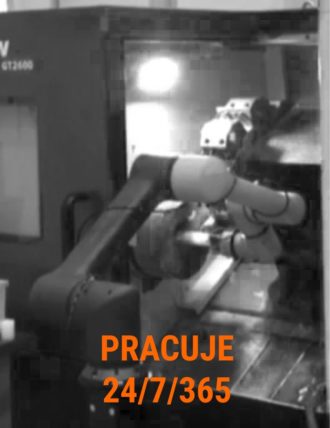 From now your company works 24h
HCR Collaborative robots, work continuously 24/7/365 performing tasks in difficult industrial conditions. They ensure 100% repeatability, accuracy of work. Numerous applications in the country and abroad confirm the rapid return on investment in the HCR robot. The robot, due to its flexibility of application and the speed of implementation, returns already in 6 months and we meet an application where the return takes place after 2 months. These are cases where the precision of the robot allows to minimize material losses and eliminate costly quality losses.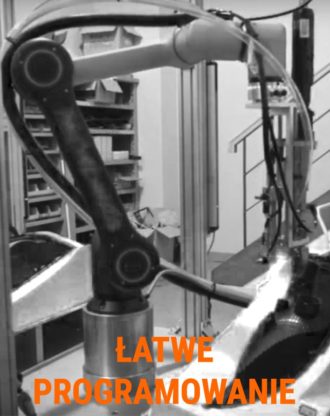 Learn in 60 minutes and programm
After removing the HCR robot from the box, it takes just an hour to start and program the first task. HCR robots are equipped with an intuitive graphical user interface in 3D, which allows you to program the robot after several dozen minutes of learning. In a simple way we can show what the robot has to do – by moving its arm from point to point, we can write complicated motion paths by showing what is particularly useful in applications requiring complex movements. The robot's implementation has never been so fast and easy.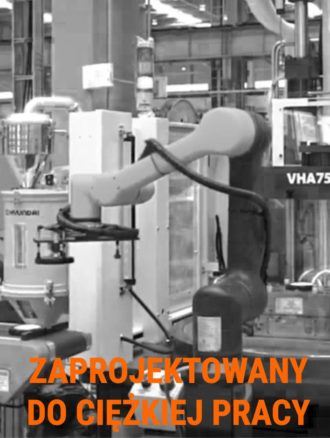 Difficult and dangerous tasks
HCR robots are designed for hard continuous operation in industrial conditions. They work persistently for 24 hours with high precision and full repeatability of the task. Thanks to the special construction that ensures long-term, reliable work in difficult industrial conditions, these robots provide a confident and rapid increase in investment. They increase the crew's satisfaction, protecting them from monotonous and dangerous tasks. Employees can now focus on work with higher value added for the company.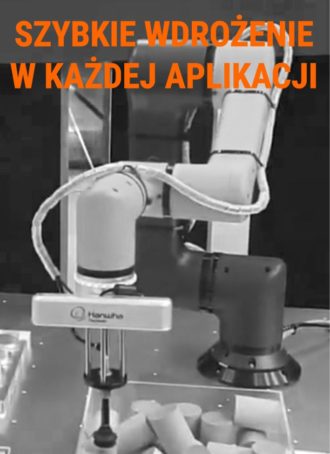 A few minutes of programming and work
Thanks to the ease of programming, mobility, and the wealth of additional accessories, HCR robots will manage an infinite number of applications, working efficiently 365 days a year. After completing the task, you can easily move the HCR robot on a mobile basis, replace the gripper and start another task. HCR robots do not rest. After completing the task, they will immediately deal with further work, increasing the efficiency of your company.
"The HCR collaborative robot is a proven solution for continuous operation in heavy industrial environments. Wherever quality, productivity and reliability are key, the HCR demonstrates its full potential." Olaf Parasiewicz, Vice President of CoRobotics
The HCR-3 is a lightweight robot with a payload of 3 kg and a reach of 630 mm, dedicated for pick&place and assembly of light details in small spaces. Unlimited rotation of the last joint allows screwing.
Robot with a lifting capacity of 5 kg and a range of 915 mm, dedicated to moving parts, operating machinery, production lines, loading and unloading. The possibility of working in sterile rooms confirmed by a certificate with Cleanroom requirements. read more…
Robot with a capacity of 12 kg and 1300mm range dedicated to carrying heavy items, loading and unloading. Particularly useful when palletizing where a large operating range is required. read more…
Asyril flexible feeding systems - AsyCube models
Any questions? Contact us...